About
New Aliah Hotel popularly known as Aliah Hotel is one of the city oldest restaurants derived its name from the two brothers Late Haji Md Ali Bux and Late Md Ali established in 1929.
Presently It is being run by Haji Md Enam and late Md Ekram's son Md Faisal Ekram and Md Tahseen Ekram, It first started as a modest eatery shop serving tea and snacksnow being transformed into high class AC dining room, cozy interior with chandlers grazed brick walls accompanied with mirror.
Even today Jamal Ahmed Jamal volunteers the size of the mutton and monitors the spices for each and every menu items who has been around since 1964.
The biryani served here has a distinct flavour, very close to the one you get to eat in a Muslim wedding – slightly spicy and low on oil. The potato and meat are well cooked and of moderate size. The flavour, aroma and most importantly the taste strikes a beautiful balance leaving you satiated at the end of your meal. The chaanp and the mouth watering kababs are the one which people come again and again to cherish.
Aliah's stew constitutes deep dish full of cubes of meat, cooked to spoon tenderness, practically immersed in oil andan onion-rich gravy, with whole peppercorns adding what they are supposed to add - depth and dimension.
Like rosogolla representing Bengal, Firni (Milk reduced to a caramel thickness, small grains of rice, moderately sweet)represents The Aliah Hotel.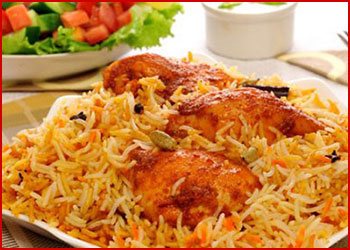 © 2017 New Aliah Hotel . All Rights Reserved | Powered by -